Are your toenails yellow, thick, or crumbly despite the many over-the-counter anti-fungal products you've tried? Toenail fungus can be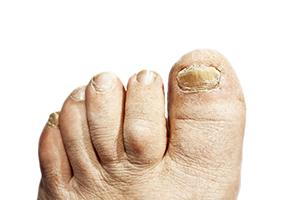 difficult to treat, but help is available. Dr. Yong Chae, your foot doctor at Active Podiatry in Indianapolis and Crawfordsville, IN, provides several treatments that can help treat your fungal infection.
How can I improve the color and condition of my nails?
Clearing your nails starts with killing the fungus that caused the color change. Over-the-counter products only penetrate the top layers of nails. If your infection starts in deeper layers of the nail or the nail bed, these products will never work no matter how faithfully you use them. Whether you've been living with toenail fungus for months or years, a visit to your Indianapolis or Crawfordsville podiatrist is the key to eliminating your fungal infection.
Your foot doctor may recommend one of these treatments:
Medicated polishes or creams designed to reach the deepest layers of your nails
Oral medications if creams and polishes aren't helpful (Oral antifungals aren't recommended if you have liver disease or congestive heart failure.)
Nail removal (Removal allows treatment of the nail bed and is usually only performed if other treatments are unsuccessful.)
Laser treatment that kills the pigment in toenail fungus by heating it
What can I do to avoid toenail fungus?
These things will help you avoid a new fungal infection:
Wear Shoes Everywhere: You can easily pick up a new infection if you happen to walk on the floor after someone with a fungal infection has passed by. Avoid infection by wearing shoes or sandals in public places, like pools or locker rooms.
Keep Your Feet Dry: Fungi grow well in dark, wet places, like the insides of your shoes. Discourage fungal growth by adding a little talcum powder to your feet before you put on your socks. If you perspire heavily, pull on a fresh pair of socks when the first pair become saturated.
Use the Hot Wash Cycle: It's not unusual for people who live together to share a fungal infection. Prevent a re-infection by washing socks, sheets, towels, washcloths, and bath mats in 140F water or hotter. Lower temperatures may not kill the infection.
Keep your toenails fungus-free with a visit to the foot doctor. Schedule an appointment with Dr. Chae of Active Podiatry by calling (317) 328-6622 for the Indianapolis office, or (765) 362-7200 for the Crawfordsville office.