Podiatrist in Indianapolis & Crawfordsville, IN
Dealing with unexpected foot pain? Are sore and stiff ankles making it difficult to get out of bed each morning? While you could go to your general practitioner to look into your condition, don't you want a medical expert who specializes in just these issues to give you the care you deserve? If so, then it's time to turn to a foot doctor for help.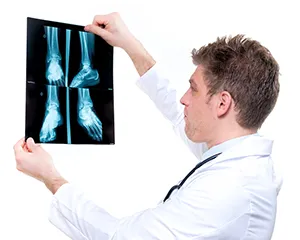 A foot doctor, often referred to as a podiatrist, is a doctor of podiatric medicine that helps diagnose, treat and manage conditions related to the feet, ankles and legs. A podiatrist specializes in treating a variety of conditions, including:
Bunions
Heel, foot and ankle pain
Hammertoes
Warts
Corns and calluses
Fungal infections
Ingrown toenails
Arthritis
Sports injuries
Diabetic foot problems
Orthotics
From infections and genetic conditions to traumatic injuries and surgeries, our podiatrists are trained to handle all foot, ankle and leg problems. Along with an undergraduate degree, podiatrists go through medical school to earn their doctorate degree in podiatry, as well as go through years of hospital residency training. This extensive schooling coupled with continuing education is what allows our team of podiatrists to offer the most advanced quality foot care in Indianapolis & Crawfordsville, IN.
From infants and older adults to athletes and those with physical disabilities, we are here to help improve everyone's quality of life by providing the best treatments and care possible for your feet and ankles. We can even prescribe customized orthotics to improve specific conditions and make day-to-day activities easier. Our main goal is to get you back on your feet and living a pain-free life.
Give your feet the proper care they deserve. After all your feet do a lot for you - isn't it time you did something for them?
For more information on a Podiatrist in the Indianapolis, IN area contact us through our contact form or call Active Podiatry at (765) 362-7200 today!