Ankle Pain in Indianapolis & Crawfordsville, IN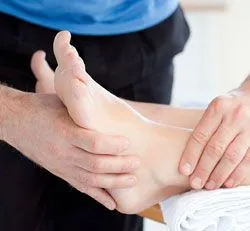 The ankle is a critical structure for everyday mobility and activities. Unfortunately, the ankle is rather delicate, which often puts it at heightened risk for strains, sprains, and other injuries. Since some people simply have weak ankles, it's important that you turn to our podiatrist Dr. Yong Chae at Active Podiatry when ankle pain and other issues impact your everyday activities and routine. Ankle pain is your body's way of letting you know that something isn't right.
Causes of Ankle Pain
To properly treat your ankle pain, Dr. Chae and his team need to first figure out what's causing your ankle pain. This often requires you to come into our office for a comprehensive evaluation. During your evaluation, we will ask you questions about the symptoms you are experiencing. We will also perform a physical examination of the affected ankle. From there, we may be able to make a diagnosis or we may need imaging tests to be able to tell us what's going on (this is most common for those dealing with injuries). Common causes of ankle pain include:
Bursitis
Sprains and strains
Fracture
Tendinitis
Arthritis
Treating Ankle Pain
Minor injuries can often be treated with ample rest and conservative at-home care. The RICE method is often recommended to help manage pain and swelling while the injury heals; however, if you've never experienced ankle pain before, it's important that you don't try to treat the problem yourself. Our podiatric team can help you determine the best way to treat your ankle pain. After all, injuries aren't often treated in the same way as chronic problems such as arthritis, and it's important that you are doing what you can to properly care for your ankle. Some of the ways in which our podiatrist, Dr. Chae, can help improve your ankle pain is through:
Prescription pain relievers
Strengthening and re-training exercises
Corticosteroid injections
Physical therapy and rehabilitation
Custom orthotics
Bracing, wrapping, or a protective boot (for moderate to severe fractures and injuries)
Shockwave therapy
Surgery (in very rare cases)
If you are dealing with ankle pain, our Indianapolis and Crawfordsville, IN, podiatric team here at Active Podiatry are ready to help. To schedule an evaluation with Dr. Chae, call (317) 328-6622 today.